Amazon Pay Quiz Time win Rs 500 (24th November)
1. Regarded as the architect of modern Indian football, he was the Indian football coach and manager of the national team from 1950 until his death in 1963. Who is he?
Answer – Syed Abdul Rahim
2. Who was the republican nominee who ran against Obama in the 2012 U.S. presidential elections?
Answer – Mitt Romney
3. With a population of less than 1000, which is the least populated country in the world?
Answer – Vatican City
4. What currency is shared by Austria, Finland, France and Portugal?
Answer – Euro
5. Khantumm bamboo dance is the folk dance of which state?
Answer – Mizoram
How To Play Amazon Quiz Time Daily Quiz?
1, This Is Amazon App Only Contest – So You have to Download The App First From Google Play Store
2. Now Just Open The Amazon App & Login into Your Account
3. Scroll Down Below On Home screen & You Will See "Amazon Quiz Time Daily Quiz" Banner Like This :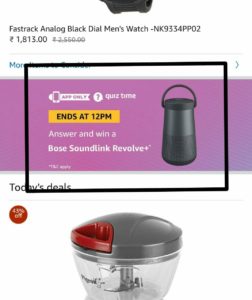 4. Click On The Banner & Quiz Will Start After Clicking "Start" Button
5. Now There Will Be 5 Questions Everyday in This Amazon Daily Quiz Time , You have to Give Right Answers To All this Questions
6. After Giving Right Answers You Will Be Selected For Lucky Draw Of This Amazon Quiz Time Quiz Winners
7. Few Winners Will Selected Daily , So i Urge You to Take Participation In Daily Amazon Quiz Time Quizzes – Based On Luck You May Win Something.